O'Fallon Pet Owner Services
Microchipping: A Standard of Safety
for Your St. Charles Pet
A lost pet is a frightening situation with often devastating consequences. According to the American Humane Association, about 10 million dogs and cats are lost or stolen every year. A study published by the American Veterinary Medical Association revealed that dogs with microchips were 238 percent more likely to be returned to their families than dogs without them. For cats, the statistic is even more dramatic: those with microchips were 2000 percent more likely to be returned home.
This is why the team at Bryan Road Animal Hospital considers Save This Life microchip pet IDs a fundamental way to protect your pet and an important part of responsible pet ownership. With the Save This Life microchip registration, you receive the following:
Aluminum, lifetime replaceable ID tag stamped with your pet's unique microchip number.
Unlimited free updates to keep contact information and pet photo current.
Lost Pet Medical Insurance coverage for up to $1,000 in emergency care.
Registration in Save This Life's Immortal Pet database (your pet's microchip ID number can then be searched in popular search engines like Google, and your contact information can be found, minimizing recovery time for a lost pet).
An email or text message instantly if someone finds your pet.
Bilingual toll free live Save This Life operator 24 hours a day 365 days a year.
This safe, reliable, and permanent pet identification takes less than 10 seconds to implant, requires no annual fee, and can save you and your pet days, weeks, or more of fear and anguish.
A Veterinary Pharmacy You Can Trust
Ensuring you have convenient, timely access to competitively priced medications is an important aspect of our veterinary practice. Bryan Road Animal Hospital offers an in-house pharmacy, which means your pet will receive precisely the right medication, at the right dose, and in the right form as quickly as possible. We're also available to show you how to administer the medication and monitor its degree of effectiveness.
We maintain an extensive inventory of pharmaceuticals, vitamins, shampoos, flea and tick control products, and heartworm preventatives to meet your pet's needs. Refills are easy, too. Simply give us a call at (636) 272-3900.
End-of-Life Planning: Compassion When You Need it Most
For many pet owners, even thinking about their pet's final days is difficult and emotional. Our animals are a part of our family. It is this strong bond, born from years of loyal companionship, that makes this time particularly hard.
We encourage you to talk with our St. Charles veterinary team about these issues before they become an urgent matter. Find out about your options, including our crematory services, make some key decisions ahead of time, and ask us to add this information to your pet's record. Taking the time to plan, as challenging as it may be, will lessen the pain and stress for you and your pet.
All of us at Bryan Road Animal Hospital will do our best to help you prepare for these important issues with the compassion and sensitivity they require.
Baue Pet Services
Because pets are family too, Baue Pet Services provides personalized, life honoring funeral, cremation and memorialization services.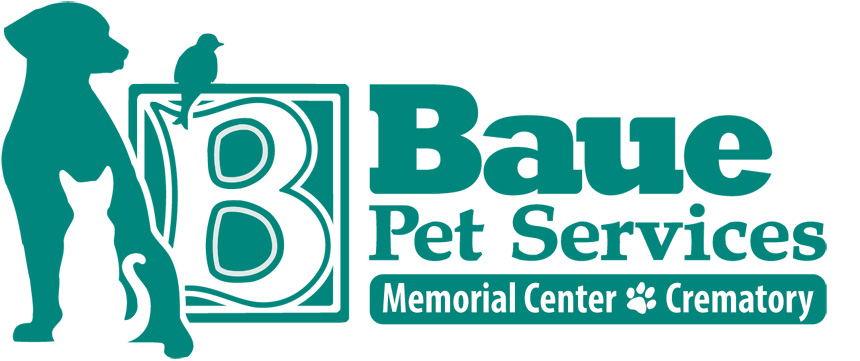 In addition, Baue Pet Services also offers grief support services for adults and children that have lost a pet.
For more information about the ways Bryan Road Animal Hospital supports the bond you share with your pet and helps make your pet parent job easier, please call us at (636) 272-3900.